When I first heard of "A day at Hubtel", I rubbed my eyes and took a second look. I saw the post on WhatsApp. Excited about it, I didn't hesitate to register. Little did I know it didn't come on a silver platter. In order to make the list for the program, we had to complete some course works. And I realized it was very necessary because they needed to know if we had prior knowledge in web development. I passed both successfully…. Yeah right, some applauds for this girl right here. So I made the list after applicants were shortlisted and then anticipation It all was, afterwards.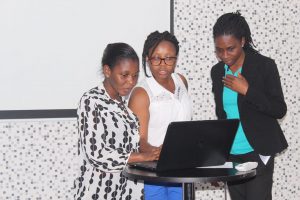 Finally, Hubtel here we come. The day for "A day at Hubtel" was here. The organizer, Ivy Barley made mention of lateness affecting our project for the day. That was my booster, you know. I couldn't hide my excitement as I made my way there with the sole purpose of winning the challenge project given!
On arriving shortly, soon it commenced with pleasantries as usual; the beautiful Ghanaian way. Then a short interview and a wonderful tour round Hubtel. They had amazing facilities and coordinators to undertake them. It was breath-taking. I told myself, "This is a place I can unleash my potential…". It was just Hubtel on my mind throughout the day.
Then next was a Design thinking workshop which was coordinated by some wonderful interns, Celia and Ellie from Stanford University. They took us through practical examples of the design thinking process and how to do it best. I loved it. We took a coffee break after and later met with the man of the day; the CEO himself, Mr Alex Adjei Bram. It was more like an "ask me anything session". The other girls had so many questions for him. So did I.
Also, we had another session which had one of the employees from the Marketing department talk to us about applying for tech jobs and dressing for success. I think that session was really meant for me…. I needed it. I was dressed lovely though…no two ways about that.
Up next was some coding tutorials mainly on JavaScript since all of us there were conversant with HTML and CSS for web development. It was very practical, hands-on, sharing of ideas. The arena was like a "hackers thingy" …. if you know what I mean?
Then came the needed lunch break. Ooooh, the food. God bless the cook. But you know what broke the food deal? The coding challenge began before it and thus continued through with our lunch break. But there was no way I was going to let this challenge slide. My team and I got down to it right after lunch. We put our heads together and made our magic happen. It was a short duration but we sure worked within time. Then time was up! Could I say pens down or hands down…? Well, either way, each team had to present their works in the presence of a panel of judges and competitors. You should have seen my face then. I was a nervous wreck.
Finally, the Judges deliberation had ended and the winner was…………….. MY TEAM! Yeah, my team won. I was not really surprised but I was very excited. Our work was good. We proceeded with the giving of prizes and souvenirs, and the WINNING CUP! The day was officially over. But I didn't leave just yet. I stayed a while longer to network. Among the people I networked with was the only female Software Engineer in Hubtel. She was a lovely lady. And from all I heard her say, hard work was her ally. And I think we had that in common.