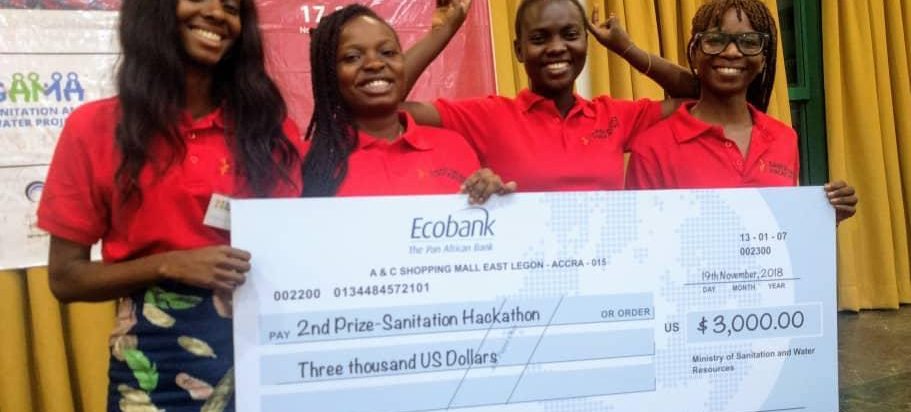 Hackathon Diaries: Participating in and Winning a Hackathon.
Female, Intermediate programmer and a 48-Hour-Hackathon don't exactly sound like the best combination. Ever participated in anything like this? I trust not! Let's take a dive into what it was for me experiencing a moment such as this. It was only until June 2018, that I purposed and begun to take coding seriously, even after a 4-Year long journey of studying Computer Science. If I ever thought of participating in hackathons with numerous experienced and expert programmers, it would have been building castles in the air. That event flooded with Silicon Valley worthy brains discussing ideas and coming up with the best in the shortest possible time. Yeah, that's what I perceived hackathons to be.
I really had a hard time making a final decision to participate in such a hackathon. This year's Hackathon was dubbed, "Sanitation Hackathon. Hacking to Clean Up". Being the maiden edition Sanitation Hackathon to be organized by the Ministry of Sanitation and Water Resources in collaboration with the World Bank Group. The launch of the event was hosted by the World Bank Group at their Head Office on 16th November, 2018. The remainder of the activities slated took place at the Alisa Hotel from the 17th- 19th of November, 2018.
Some methods remove arsenic from the human body before it causes any damage. When oral quinolones are given for short courses, consider eliminating the lanthanum carbonate doses that would be normally scheduled near the time of quinolone intake. Stop using this medicine and check with your doctor right away if you have blistering, peeling, or loosening of the skin; red skin lesions; severe acne or skin rash; sores or ulcers on the skin; or fever or chills while you are using this medicine https://italia-farmacia.com/vigora/. Lipase, an enzyme found in the digestive tract, helps break down dietary fat into smaller components, so it can be used or stored for energy.
It was required of all participating teams to build solutions using technology to help solve the numerous sanitation problems in our country, Ghana. As a requisite, we were to integrate technologies such as Internet of Things (IoT). User Design Experience and IoT workshops held, brought life and sparkle to the event. With several lessons learnt from all of the workshops conducted, I absolutely left the hackathon with much more than I came in with.
One of such lessons was from the User Design Experience workshop. "Do not always design WITH but design FOR" was the lesson that left an imprint in our minds. The readiness of Ghana for the fast evolving world of Technology and how quickly we as a country need to adapt to these technological changes was the highlight of the IoT workshop. Another aim of the Hackathon was to challenge us on the key concepts and areas of the two workshops. With over 200 innovative and smart individuals participating, the event was characterized with exceptional ideas from every team.
Mentors were assigned to each team to help the teams refine their ideas if the need be and also to help with any suggestions regarding the ideas. The competition schedule of the event saw 5 of the 35 teams drop out as at 19th November. Among the number of ideas pitched at the event are;
An Edu-Social Campaign model that is geared towards attitudinal change in citizens through animations, sanitation ambassadors, Robocalls, Chatbots and Celebrity Campaigns via a website. (This was done by my team)
A smart bin that interacts with people as they get closer to drop their waste and after they are done dropping the waste.
An app that helps in managing liquid waste and fecal matter in various locations.
The experience from this event left me with several emotions and thoughts as the final decision to participate in the hackathon didn't come easy for me. This experience provided me with a unique opportunity to learn and feel ne things, giving me the transformation and reformation I so much desired.
The scars of previous team work experience were erased by the attitude of my team during the hackathon. Every team member worked tirelessly and effectively to ensure that our sleepless nights and severe brain storming paid off. As females in the spotlight, the expectation of the world out there is always higher.
Sacrificing sleep for 48 hours was an overwhelming feeling, but it taught me a very important lesson; "whoever is determined and stays focused will always see a realization and manifestation of their dreams". Participating in this Hackathon was certainly a wonderful experience, especially as my team and I saw all things falling in place for us. ​
Maybe you're programmer or you've a burning passion for programming, my advice is that you find yourself in a tech community and get out there. Involve yourself in activities of the tech community and participate more in hackathons whether it's for short or long hours. Oh, and if you are anything like me, and would love to build solutions that will impact lives greatly, then partake in more hackathons to challenge yourself.
My love for team work and my desire to build lastly solutions that will impact greatly, has been improved with my participation in the hackathon and working closely with my team "BEAMERS". Being unable to complete our project was in no way a hindrance to the brightness of our beam as we received great reviews from the judges and were awarded the second position in the just ended Sanitation Hackathon with cash prize of $3,000.
"Sanitation Hackathon. Hacking to Clean Up."
 Abigail Tsotsoo Mensah