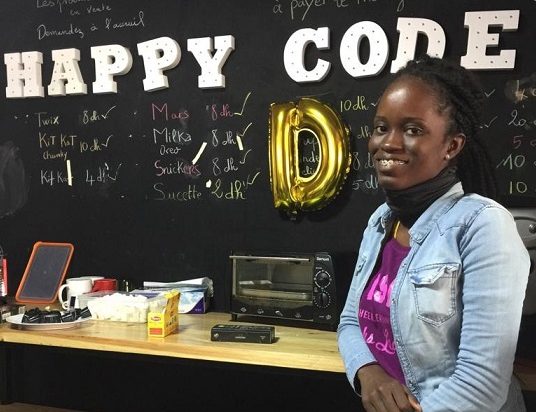 My First Android Bootcamp
Code, Connect, Collaborate were the three magical words introduced to us at #STEM4G.
The #STEM4G bootcamp that was organized for females by Stanbic Bank Incubator (SB Incubator), Ghana in collaboration with Developers in Vogue on 18 th June 2018. With both parties sharing a common goal: promoting entrepreneurship through technology especially amongst Ghanaian females. I was fortunate to be amongst the 50 other ladies who were selected to participate in this journey.
SB Incubator provides entrepreneurial capacity development to young Ghanaians through a broad spectrum of incubator projects which seeks to develop skills relevant in today's fast paced tech- driven world. Developers in Vogue, an advocate for STEM, also aims at creating a relevant community of amazing African women who are passionate about using technology to
revolutionize Africa and beyond. The aim of this boot camp was to find innovative ways of developing practical solutions to problems in our society through technology. Although building Android applications was a new and challenging experience for most of us, we were satisfied with the outcome of our applications. Our hard work paid off; major thanks to our hardworking tutors, Roger, Samuel and Ferguson.
At the end of the program, all 12 teams pitched their ideas and demonstrated a prototype of their mobile applications. It was an intensive 2-week program but the entire experience was extremely rewarding and encouraging. It was through this program that my passion for discovering business opportunities and solving real world business problems through technology whilst having access to global and national markets was enhanced.
Throughout the program, we had awesome mentorship opportunities. There were several guest speakers including representatives from Stanbic Bank such as Foster Akugri, Lesley Martey, Aya Ayettey and other CEOs and executives of various technological fields such as the former IBM Director of Operations/Innovations, Olufemi Adewumi, Alfred Rowe, Co-Founder of Ego Tickets and a senior software engineer at Andela and many more. In the second week, we also partook in various training sessions including learning how to prepare for an elevator pitch and self-pitch during a business proposal with Derrick and Gloria from The Pitch Hub. We also had a great opportunity to acquire basic Digital skills training with Wineloya Digital Advertising.
The mentors and trainers also spoke to us on several topics such as the benefits and challenges of being an entrepreneur, especially in the field of technology. It was very inspiring, listening to them whilst mentally preparing ourselves as aspiring entrepreneurs, for the "reality on the ground".
Despite the intensive nature of the bootcamp, we had massive fun, including aerobics session with the staff of Stanbic Bank, Spintex Branch where the program was held and had various ice breaker sessions in-between coding, not to mention the abundant and delicious food that were provided to us.
It was fun working with my team members on our application (UNIPREP) #goTeamEAGLE and also connecting with members from other teams. Being a part of this experience has given me a new insight on what it takes to be an entrepreneur. It has also broadened my perspective to the wide range of opportunities that technology can provide especially in Africa.
I really appreciate all the time and hard work that the Stanbic Bank Incubator and Developers in Vogue teams (and everyone else who was involved) in making the #STEM4G bootcamp a success. God bless you all!!
Congrats to the winning teams and we wish them the very best. I had a fantastic time and I can't wait till the next event!
Developers in Vogue……#LetASisterKnow
~Christiana Asare