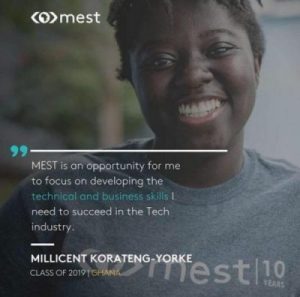 In May 2017, I "graduated" from the Kwame Nkrumah University of Science and Technology (KNUST). I did not show up for the graduation ceremony. Partly because my time there was quite possibly the worst 4 years of my life but mostly because I had fallen in love.
Before my final semester in KNUST, I knew the likelihood of pursuing the program-that-will-not-be-named was extremely unlikely . I had therefore thrown myself quite whole-heartedly into looking for a job, an internship or an opportunity.
Birth control pills and estrogen following menopause: Birth control medications and estrogen replacement for post-menopausal women can increase blood levels of copper. Use in Epidural Anesthesia During epidural administration of bupivacaine hydrochloride injection, 0. Emsam (selegiline) prevents the breakdown of chemicals in the brain that are often imbalanced in people with depression https://pharmacie-enligne.org/. The effects of coadministration of EFV on C max, AUC, and C min are summarized in Table 4 (effect of other drugs on EFV) and Table 5 (effect of EFV on other drugs) see [ Drug Interactions (7)].
As providence would have it, I successfully applied to the first cohort of the Developers in Vogue (DiV) and that is where I fell in love with programming.
DiV is an organisation that equips primarily young women with the skills they need to pursue a career in software development. During our 1st bootcamp, I learned the basics of front-end web development and built websites for an NGO. I also got jobs developing websites for various clients.Some time in January 2018, I was encouraged by the CEO of DiV, Ivy to apply to the Meltwater Entrepreneurial School of Technology (MEST). I had come across MEST during my research for my life's purpose but they were way out of my league.
But I applied and promptly forgot about it. Some time in April, I received an email that I had qualified to the next stage. I had received a lot of rejections from various opportunities and this was literally my second acceptance ever. Now I had no idea what was expected of me so I run an internet search for MEST application.The next stage I had qualified to was a 30 minute exam.
The questions were instant scoring but you still had to wait till the end of the test for the results. But I did the best I could and was invited for the next stage — a telephone interview with the recruitment manager. The questions asked during this interview leaned towards the things that we said in our application.
I got another email inviting me to an in-person interview on the MEST campus. If you're from a different country, the interview may take place in the school's incubator.I had really good time and met a lot of really great people who gave me a boost of confidence. The interview was in two stages, a group interview and individual interview. The group interview will have everyone introduce themselves and go through a number of exercises.
After this, I got a call-back for the one-on-one that was a fairly standard interview. Questions about my application, resume and views. A few weeks later, I got another email that welcomed me to the program. I signed the contract.
So a couple of tips for those who applied, are applying and will apply:
1. APPLY
2. Be as authentic as possible.
3. Use the time between waiting for a response to actually learn about startups, tech and business. Read books like Outside Insight (trust me, read it), Lean Startup, Scrum and also your interests.
4. Use the same email address throughout the entire process. (It will save you
at least 10 minutes of your allotted 30 minutes exam time)
5. If you make it the interview stage, be confident, assertive and observant. If it's not going great, take action and put yourself forward. (Also if you're applying in 2019, I can be of help)
6. For the phone interview, make sure you're all set for the call, before the interview begins.
7.If you get in, put in your best and make sure you understand what you're up for. Have clear goals and stay focused.
8. If you don't make it, TRY AGAIN, PUSH HARD and DON'T GIVE UP.
But only version 2.0 of __insert your name here__ should apply.
Good luck, enjoy the ride and MEST on.