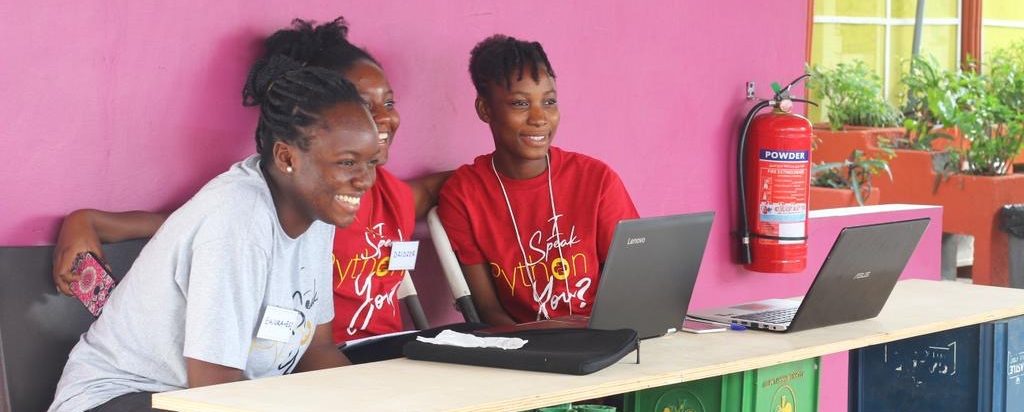 Python is a programming language that is gaining great interest all over the world. However, this popularity is mainly prevalent among males than females. To change this statistic, Developers in Vogue partnered with iSpace and Python Ghana to train young women in Python Programming.
The boot camp started on the December 19, 2017 at iSpace, Labone with 32 participants. We were glad to have facilitators who were experienced Python programmers to share their knowledge with the ladies through a very interactive learning environment. Prior to the start of the bootcamp, the ladies came up with their rules of engagement which included more coding, more food, more selfies, more learning and more friends. Aside these, there were three main rules on which the whole program revolved: CODE, CONNECT, COLLABORATE.
This is how participants of our just ended #Python Bootcamp with @iSpaceGh and @PythonGhana described their experience in ONE word. #LetASisterKnow #WomenInTech #CodingBootcamp pic.twitter.com/LD04AQOlYR

— Developers in Vogue (@devinvogue) December 23, 2017
The coding sessions started with a review of assignments. Most of the ladies were happy to learn from their mistakes while others liked the fact that they learnt new ways of presenting their code. The ladies were divided into groups of threes to develop web applications using Python. For focus group sessions however, participants were placed into smaller groups according to their knowledge and experience, in order to provide a more personalized learning experience. There was also a guest speaker who showed the ladies some practical applications of Python language like machine learning. 
The final day of the bootcamp was very exciting! Ladies worked all day on their on their projects in preparations for presentations. Using their knowledge in Python, they came up with great projects like an online library for programming languages, a first aid app, an app for storing records of employees and even an animated Christmas card! We also had a Christmas raffle , proudly powered by Python. This was an outstanding way of closing the curtains on the bootcamp. 
Considering the projects the girls came up with in just three days, we are very hopeful that with our support, they will be able to improve upon them in order to make a significant impact in Africa. 
At our #Python Bootcamp, ladies were introduced to Python programming & how to use #Flask for web development. At the end of the 3 days, they presented the #web applications they built. Thanks to @iSpaceGh and @PythonGhana for making this happen! #LetASisterKnow #WomenInTech pic.twitter.com/Nl95nvxN3x

— Developers in Vogue (@devinvogue) December 27, 2017