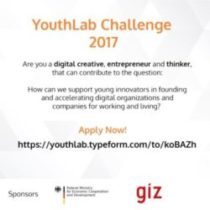 The German Federal Ministry for Economic Cooperation and Development is hosting the YouthLab to have young people tell their hopes and expectations for a digital future in tech in Africa and Europe. The aim of the AU-EU YouthLab is to bring together the best ideas of young, digital innovators and entrepreneurs from both continents and to jointly develop a set of concrete recommendations for policy makers and business leaders from Africa and Europe.
The Challenge Areas: 
We are looking for a wide range of solutions, innovations and best practices that address one or more of the following areas:
– Improving access to digital skills and knowledge through technology
– Supporting especially young women in leading and growing digital businesses
– Enabling local ecosystems that support founders of digital companies.
We are looking for any inspiration, idea or proven approach to empower young change-makers in their digital future. It can be a/an
mobile application
campaign
curriculum 
event
e-book
best-practice example from your project or a powerful story.
We invite individuals and organizations that are based in Ghana to join us in this Challenge. Individuals with the best ideas will be invited to participate in the Business Forum at the AU-EU Summit to share their results. As ambassadors of their generation, they will present their ideas of a better digital future in front of policy and business leaders. The YouthLab represents the ultimate opportunity to raise awareness for your ideas, receive professional feedback and become part of the leading policy discourse in the AU-EU context. The floor will be yours to create a future and living through innovations!
Interested? Apply here or send your enquiries to youthlab@40.120.52.171