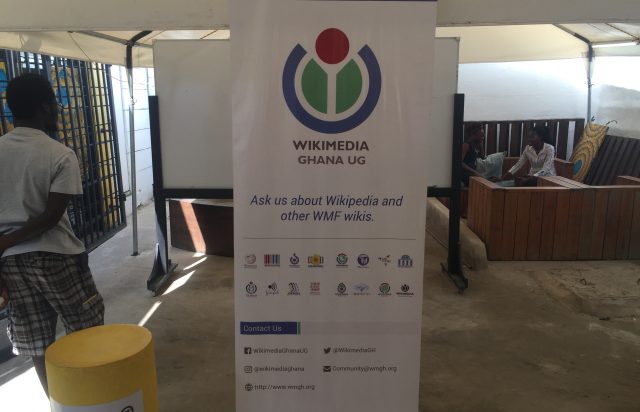 Quick exercise: What is the first thing you think of when you want to know something? If you are a child of this digital age (or an acolyte from the older generation), your immediate guess is Google, which in turn is almost certain to drop a Wikipedia link on its first page.
I became familiar with the big W somewhere in my late teens when I had too much time on my hands. In my defense, those were the days post-WASSCE when we had to wait a year after high school before uni and this girl had to find appropriate ways to occupy her time. I saw it mainly as a reference website without thinking too much of it and it wasn't until a while after that I came to know that is was heavily reliant on user updates within an online community of enthusiasts. However I only found out about the organization behind the encyclopedia behemoth just last weekend and the communities that have arisen out of the love for knowledge.
Wikimedia Foundation is the San Francisco-based non-profit devoted to bringing free educational content to the internet-using public. They have affiliates across the globe including Ghana's which was established in 2012. This was my first time hearing of them and I was excited to be at the Osu Impact Hub last Saturday for their Accra Wikipedia Workshop (#NowEditingWikipedia, because I am a child of the digital age). This event was in collaboration with the women in STEM collective Developers in Vogue as part of activities in the month of March to mark International Women's Day. In keeping with the celebrations, the theme for the activities was Ghanaian Female Achievers as part of efforts to increase female visibility and reduce bias on the site. The facilitator was Wikimedia Ghana co-founder and user representative, CitiFM's Sandister Tei.
Intro
Prior to the workshop day, attendees were required to create a Wikipedia user account which would serve as the profile to create and edit pages. So armed with this at the start of the event, Sandister introduced herself and gave a brief history of the Wikimedia Ghana user group (UG) and their activities. We were then each asked to choose a Ghanaian woman of note and mine was our ever-graceful Second Lady, Samira Bawumia. Since we were first-time users, our goal was to edit already existing pages and not create new pages just yet.
Edit vs Edit Source
The first thing we were taught after intros was that while users could edit any article, certain pages like that of former US presidential hopeful Hillary Clinton have been locked for editing such that only accounts with certain privileges were allowed editing access. Other than those accounts, any other page was open for change by users which sometimes made certain articles ripe for vandalism. This behavior can be reported by other users for moderation after which corrections can made and the page locked like the aforementioned page depending on the severity. Then comes the editing, where there are two options: Edit, which is like a simple box editor for typing and with templates for different actions (more on that later) and then there is Edit Source which is for the geekier among us due to it code-like format.
References, References, References
Next was the important point of referencing articles. We looked at a few lines on the pages of our selected female figures and tried to find valid references for them. This proved to be quite the task as proper references for information such as dates of birth were in short supply. This started a broader conversation about how difficult it was to find online content on even notable people from sources that could be considered credible, to which I could totally relate given my experience with online research. After a few credible references were found, we were taught to use the citation template feature which again Wikipedia has a simplified option for.
There is Automatic — where the citations are generated for you the reference URL is pasted, Manual — you painstakingly type out the lines yourself (only when Automatic fails, obviously) and Re-use — to cite a previously entered reference.
Summaries
After saving our edits, we were greeted with a dialog box to type a short phrase describing the kind of changes made. We were made to know that though optional, it is a preferred practice by users as it offers a descriptive glance at the history of the the various edits made.
More things I didn't know
Wikipedia pages apparently have these really cool analytics where you can see page views and even compare visit stats of different pages! This was intriguing to me as a data analyst and fresh news as I am usually out of there as soon I get what I am looking for from a Wikipedia article.
Afterwards Sandister and Nana Efua from Developers in Vogue came through with lunch and drinks which was enjoyed amid interactions with fellow attendees and Wikimedia Ghana UG reps.
Shout Outs
Special ones to Sandister for making the session a lively and interactive one. Also to Nana Efua and the team from Developers in Vogue for organizing the event and participants. The follow ups are much appreciated. Lastly, to Wikimedia Ghana UG for the Accra Workshop not forgetting reps Enoch and Justice for helping co-facilitate and generally making it a success.
You can follow Wikimedia Ghana UG on Twitter, Facebook and Instagram.
Also Developers in vogue can be followed here.
Before you leave:
If you have enjoyed this, kindly like and share and spread the word. You can also click the the "Follow" button for updates!
Cheers lovelies!